Escape room games are fun and entertaining. Based on the concept of video games, escape rooms are live action and team based games where players have to solve puzzles, find clues and accomplish tasks to achieve certain objective that is generally escaping a room. These games are a great alternative for millennials who are tired of playing online games and are becoming popular as they show playing games in real is more fun.
Escape Rooms – New Venues of Entertainment
Popularity of escape room in Columbus, New York, Seattle, Chicago, etc. is high in millennials and corporates. The escape room games combine elements of the theater such as development of drama with special effect, and gameplay.
The name of the escape room experience may vary – puzzle hunts, escape games or escape the room. But, all point towards a new form of entertainment that is based on a simple principle – get locked in a room with a group of people and find your way out of the room in 60 minutes.
The escape room games are based on a theme of fantasy or horror. Millennial generation is considered the biggest market for escape rooms. However as per research by Scott Nicholson, the game has a universal appeal. Millennials make only 37% of the total audience at escape rooms. This proves the audience of escape room games is broad.
Escape Rooms – Entertainment for Everyone
If you look at the demographics of players, 19% are corporate who use escape rooms for team building in Milton Keynes. Around 11% of audience includes couples who are on date and 19% of audience is younger which is 19 years old or younger than that. Unlike other forms of gaming, escape room games attract players of both genders equally.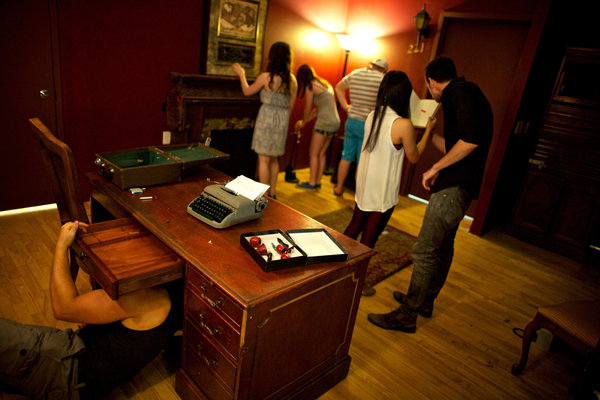 Beginning of the New Entertainment Market
The first escape game was started by a publishing company named Scrap Entertainment in Kyoto, Japan in July 2007. The escape game involved a team of 5-6 players locked in a single room and were required to solve a series of puzzles to escape the room.
Escape rooms concept grew rapidly since 2010 in other continents like Asia, Europe, Australia and North America.
Games/Themes of Escape rooms
According to research by Scott Nicholson, around 16% of the escape rooms had no themes, the players were just required to solve puzzles, riddles, find clues and escape the room. Around 30% of escape rooms required the players to escape to a specific place, this is where theme came in. Here are some of the common themes/concepts of escape room games.
| | |
| --- | --- |
| Concept/theme of the escape room games | % |
| Engage with supernatural | 8% |
| Free an animal or other person | 2% |
| Military operations | 2% |
| Find the missing person | 3% |
| Gather Intelligence | 4% |
| Solve the murder | 5% |
Different themes of escape room games help this new entertainment market to cater to a broader audience. Escape games with narrative offer the most immersive experience. Such games have more facilities that includes more than one room, decorations to simulate environment and even costumes for the players to bring in the real feeling of the character.
Other Purpose of Escape Rooms
The use of Escape rooms is not limited to fun and entertainment. These facilities also provide a combination of learning along with entertainment. Around 30% of the games are designed for desired outcomes as per requirement of the corporates. The most common outcome desired by corporates is improvement in communication and teamwork.
As per Marketwatch research, the numbers of escape rooms have exploded in recent years. There is no doubt Escape Rooms have unlocked a new entertainment market and albeit a profitable one.
Have you been in an Escape room? Do you have any questions? Please feel free to leave your comments below, we'd love to hear from you.