Room escape games are team based games that you can play with your family, colleagues or with just anyone. In room escape game, a group of people gets locked in a room and they are required to solve a series of puzzles or find out clues hidden in the room to get out of the room.
Escape games becoming more thrilling as the room gets decorated as per story theme and you have the tough task of escaping within specified time limit.
Since room escape games always have a story behind,, you might get an opportunity to play your favorite character that is trapped by "X" and needs to find a way out. Let's look at some of the popular escape room games that you can indulge in.
Trapped in a Room with Zombie
It is one of the popular escape room games where a group of 8 to 10 people are locked in room with a zombie chained to a wall. The key is hidden in the room and you need to find it to locate a series of clues and puzzles to unlock the door.
Every five minutes the Zombie chain is released by one foot. Within an hour Zombie can reach every corner of the room. If Zombie touches you, you have to sit aside and cannot participate in the game. Hence, you need to save yourself and also be quick in finding the key to escape the room in Dallas, Columbus, New York and other places.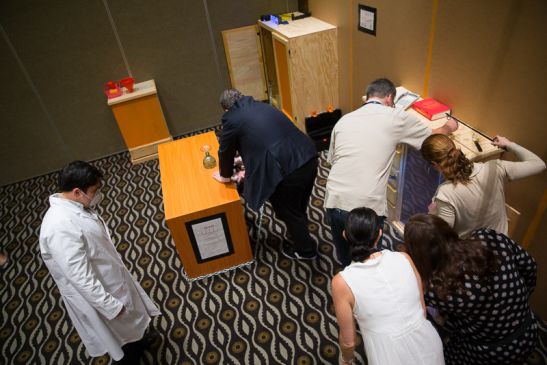 The "Trapped in a room with zombie" game is full of laughter and fun. It is a unique experience where you have to work hard with others to save yourself from being eaten by Zombie. As the clock ticks, a mix of emotions that includes fear and excitement causes an adrenaline rush in your body that forces you to think on feet and never give up. All this is too much fun.
The Bank Job
If you like playing games that requires you to use logic- the bank job room escape game is an exciting challenge to take. The game is about solving a robbery where you need to look for clues to uncover the truth. The bank job escape game provides you an immersive experience due to the intricate room system and special environment created for the game.
The Pharaoh's Burial Chamber
Are you bewildered by the mystery and beauty of the pyramids and life of Pharaoh's?
This game gives you an opportunity to be an archeologist where you and your team work hard to discover secrets of Mystique room. This adventure game involves discovering secrets, escaping through caverns and solving exciting challenges.
The escape room is beautifully crafted for the game and you feel like wandering in a tomb that is thousand years old unraveling the secrets. The experience is nothing less than acting in films based on the secrets of the pyramids and life of Pharaoh's of Egypt.
There is virtually no limit when it comes opting for game theme or story in room escape games. It should not be surprising for you if you get an opportunity to participate in real-life versions of popular video games.
Room escape games have become the latest craze as the entertainment is real. Today, we live much of our life online; be it work, or entertainment. These games are great alternatives to online games and bring people back to the real world. Room escape games have made people realize that it is more fun to play games in real.
Have you played any room escape game? What was your experience? Do you have any questions? Please feel free to leave your comments below, we'd love to hear from you.