Transporting your exercise gear and yoga mat to the yoga studio can get pretty exhausting especially when you do not have the right gym bag. No matter how tightly you roll your yoga mat, carrying it without a right gym bag is not at all easy. That's why these days more and more yoga enthusiasts are purchasing gym bags with yoga mat holder.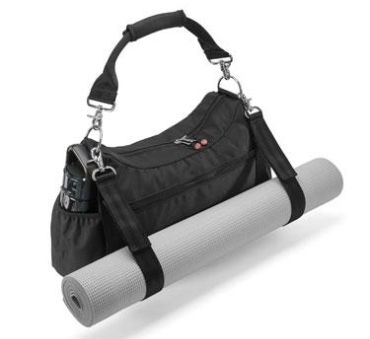 Why do you need one? There are plenty of reasons why you should consider buying a gym bag with a yoga mat holder. Let's have a look at these.
1. Convenience
The major perk of a using a gym bag with yoga mat holder is that it has separate straps to hold the yoga mat securely. You can conveniently hold your yoga mat and carry it to the gym or yoga studio without entangling with it. You can walk down on the subway with your hands-free whereas with a normal bag, carrying yoga mat to the yoga studio itself becomes a tedious task. Yoga mat does not fit into the pockets of the normal bag and only adds to the frustration of carrying it along with you.
2. Odor and Water resistant
A good gym bag is made of highly moisture resistant and odor resistant material like polyester, nylon, or cotton canvas. Hence, you can easily store your sweating garments and soiled shoes in the bag after the yoga session without worrying about soiling clean clothes, spreading foul smell, and making a mess in the bag.
3. Keep Your Stuff Organized
Gym bags with yoga mat holder provide plenty of space to store the gym essentials and yoga gears. These bags have multiple compartments to store gym essentials in an organized way and have straps outside the bag to hold the yoga mat. No matter how large or small your yoga mat is, you can easily hold it without consuming too much space. Multiple compartments of the bag allow you to store the stuff in an organized way, and when you need it, you can access and find it easily. You can dedicate one compartment for sweating yoga gears and soiled shoes. One compartment can be reserved for the clean pair of clothes and one for snacks, supplements, and water bottle. And you can reserve one compartment for keys, phone, ID cards, and wallets so that you do not have to search the whole bag for finding the little keys of the car.
4. Stylish
Gym bags with yoga mat holder are available in a variety of styles. Depending on your needs, you can choose the style of the bag. Tote and duffle are the most popular styles of gym bag because these are not too large in size and still provide enough space to store things and hold a yoga mat. A vast range of designs of gym bags with yoga mat holder is available in the market. You can easily find the gym bag that looks good on you and blends into your overall looks.
5. Ideal for Travel
As discussed earlier, high-quality gym bags are usually made of polyester, nylon, or cotton canvas. These materials are highly durable and last for the lifetime. Hence, your bag can easily withstand the abuse it undergoes in traveling. More importantly, you can gently wash your bag with mild soap and water; therefore, you do not have to worry about hygiene issues. These qualities make gym bags ideal for traveling.
6. Economical
Last but not least; gym bags with yoga mat holder are a budget-friendly option. When you buy a normal bag, you have to separately buy the yoga mat bag whereas a gym bag with yoga mat holder offers the functionality of two bags in one. You do not have to buy the separate bag for carrying a yoga mat.
These are the six reasons why you need a gym bag with a yoga mat holder.
If yoga is part of your life and you go to the yoga studio or gym regularly, then no doubt purchasing a gym bag with yoga mat holder is a great idea.