As said above, the metal cadmium demonstrates it as an excellent sacrificial coating to defend the base object from all sorts of oxidation and corrosion, predominantly in alkaline and salty environments. It holds fast and effective electrical and thermal conductivity, bonding capability with low melting temperature and solderability. As pigments, a chemical compound of cadmium possess exceptional opposition capability to high temperatures and are excellently diffusible to polymers.
Apart from producing popular industry colors, it boasts colorfast when used over plastics, ceramics, or glasses. Opposed to zinc, the superiority of cadmium that it has is to retain the original look of objects much better than its counterpart, especially in marine and industrial settings. Due to high lubricity, it's also top chosen for industrial uses to work on moving parts of machines especially made of cast iron for keeping them smooth, anti-galling and lasting.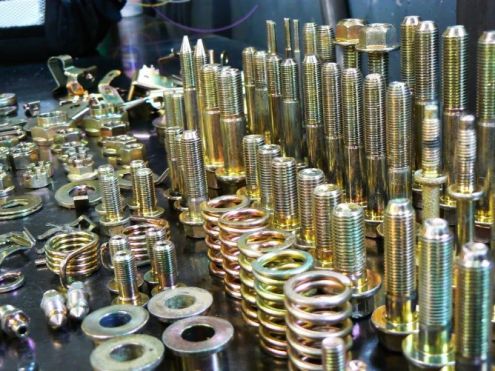 Cadmium Plating- Major Industries and Applications
Aerospace: Especially used on flight-critical elements and parts used for manufacturing various types of aircraft due to its anti-corrosion feature, high bonding ability, the mating ease with aluminum and steel parts for making airframes.
Automotive: a huge amount of cadmium plated components are used in the production of batteries and various automotive tools all over the world.
Marine: all metal elements from bolds, screws, join components that sit in salt water environments.
Construction: home constructional products like hardware items used in windows, doors, etc
Transportation: Radiator hose components and fittings, door latches and brake components.
Electronics: majorly used items include relays, connectors, and PCBs.
Benefits of Cadmium Plating
Anti corrode
The unique anti-corrosive feature of cadmium plating can protect almost all substrates from oxidation causing them getting rusted. Importantly, the thickness of the plated layer also acts as an accurate interpreter about how long it can protect the underlying metal from being corroded. Due to this, cadmium coated screws, nuts, bolts, screws, and fasteners are globally preferred in aerospace, defense and offshore industrial uses whereas working in all extreme weather conditions including brine condition is normal. The excellence of its protective prowess has acknowledged it as 'sacrificial coating' on its substrates.
High Adhesiveness
Once plated with cadmium, it makes objects highly fitting for adhesions and thus the adhesive property of the metal being coated gets improved. This is essentially a great property which is demanding in various industrial, commercial, and engineering applications. For example, in the manufacturing of aircrafts substrates, where high-class bonding capacity is essential to ensure safety and security. Similarly, the feature makes it top sought after in engineering, shipbuilding or automotive industries.
Superior Conductivity
Cadmium plating can be used as a fantastic electrical conductor. Being super conductive, they're used on electrical wiring, connectors, and various other applications facilitating efficient, smooth, and uninterrupted power flow in electrical transfers. In terms of its ability to conduct electrical waves, it is also demanding to producers of medical devices as a great alternative of gold plating.
Versatility
Another great facet of cadmium plating is with higher versatility; it offers the industrial users the benefit of its coating on a variety of metals and alloys like iron, steel, brass, copper, aluminum and more. Unsurprisingly, they are widely demanding metals and used in almost all industrial applications, machine parts, manufacturing elements, and components.
Color Range
Cadmium electroplated materials can be effectively used in paints and paint bases. The target objects thus can be tinted with colors like black, olive, black, as well as clear. Aside from adding corrosion protective strength, with chromate conversation, when metals is coated, you can get a natural look and polish of gold color in the outcome. Equally, depending on your need of protecting an object used for indoor and outdoor purposes, the layers can be made thin to thicker, that makes it suitable for the budget too. It boasts positive galvanic compatibility with aluminum produces.
Improved Solderability
As cadmium plating can add bonding ease, on the other hand, it increases the solderability of various metals. No denying, when it comes to automotive, electrical, electronic or engineering, its capacity to hold soldering helps in infusing things together with conductivity feature.
Resist Bacteria and Mold
Assume the objects that are used in the acidic environment, like deep in the sea or damp areas that encourage mold growth and bacterial invasions. This can have high damaging effects in vital machine parts and thus can be avoided with cadmium coating.