In a society that tends to subscribe to a skinny standard of beauty, full-figured women shine out with a beauty and confidence all their own. Not afraid to be themselves and to dress themselves up in eye-catching fashions, women with full figures have many fashion options to choose from, whether they feel like wearing something bright and flirty or looking professional in a flattering, conservative business suit. But ask any full-figured woman you know and she will tell you that shopping for clothes isn't always easy, especially when it comes time to find full figure bras that fit, flatter, and feel comfortable.
Finding full figure bras can be a challenge for many reasons. Many clothing designers seem to think that if a bra is large enough to be considered plus-sized, that is the only thing that needs to be taken into consideration. Nothing could be further from the truth! Simply making a bra larger does not mean that it will fit every wearer of plus-sized clothes who tries it on. Full figure bras need to be made of strong, resilient material so they can provide support where it is most needed. If they have underwires or other extra supports, care needs to be taken with the seams around those areas. Underwires and plastic side supports can poke through weak seams or simply cause the fabric to wear out faster—and any woman can tell you that when a bra breaks, it usually does so at the worst possible time.
Another challenge in the full figure bras shopping game is the fact that even well-made bras aren't necessarily going to fit every woman who tries them on. Each woman's body is different, and the perfect bra for one woman can be a saggy, awkward nightmare for another. Trying on full-figure bras requires patience and perseverance and the willingness to try different styles and measurements until you find one that is comfortable, attractive and suits your unique figure.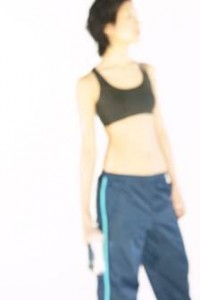 If you are comfortable going bra shopping with a friend, a second opinion can be a valuable resource. Bring someone who understands the process of shopping for full figure bras and who is able to offer constructive, honest feedback about whether or not a bra is flattering to you. If you both need to replenish your underwear drawer, you can make an afternoon of it and provide support for each other while shopping for support for yourselves.  The women who work at lingerie stores are also an excellent resource for your bra-fitting needs. They know what to look for, what to suggest, and how to make the experience of shopping for full figure bras an uplifting one—no pun intended!
Full figure bras can make all the difference for the women who wear them. They can make outfits look and feel better. They can alleviate back pain and other discomforts associated with having full breasts. And, of course, they're a fun, sexy and beautiful addition to your wardrobe! Bra shopping can be a challenge, but finding the perfect plus-size bra can make it all worthwhile.