When you or your loved one's involved in a commercial trucking accident you can see immediately how more damage can be caused to property, vehicles, and especially to people. Permanent loss from a trucking accident is a very real possibility, not just due to a damaged vehicle but because of physical injuries that you may never recover from. But who is at fault during a trucking accident, who should you be contacting after you or a loved one has been in a trucking accident, and how soon should you be contacting a lawyer to help you through the process of receiving the compensation you need after the accident?
Trucking Regulations
There are numerous laws both federally and per state that regulate how commercial trucking is to be carried out to protect both the truck driver, the trucking company and the general public. At the forefront is specialized training for truck drivers that instructs them on how and when they can drive a big rig. There are minimum standards designated through regulations designed to ensure that truck drivers are always alert and never compromised while driving; these include mandatory break times and driving time limits per day to ensure the driver is well rested and in good physical and mental condition, and defensive driving techniques. Other regulations are designed to ensure that the vehicle they are driving is up to snuff; these include mandatory routine inspections and regular maintenance. If a commercial truck leaves the lot with any faulty components these are hazards waiting to fail and cause catastrophic trucking accidents.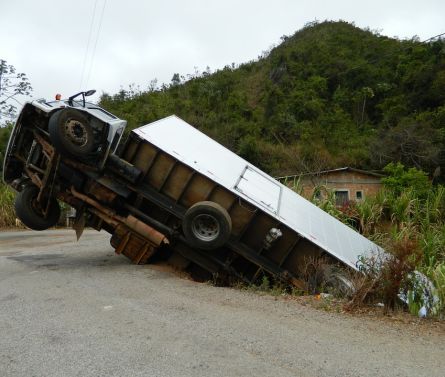 Aftermath of a Trucking Accident: What Now?
If you or a loved one has been involved in a trucking accident, you may be wondering when is the best time to contact a lawyer, considering you may be in the hospital recovering from severe physical injuries for quite some time. The answer is as soon as you possibly can, whether or not you are in hospital or not. The moment the trucking company finds out about an accident they will contact their insurance company, and that company will immediately send out a team of accident scene investigators to comb the crash site for evidence to help their case to minimize the amount of payout they will be liable for. This means you need your own lawyer as soon as possible so that they or their firm can send out their own experts to investigate the scene, the driver and the driving company to gather evidence to build your case. With information gathered your lawyer can then sift through the information and start working on a case, deciding who was at fault: the driver, driving company or third party. You should not be talking directly with the trucking company representative or their insurance company at any time, it should be done through your lawyer to protect yourself. As well, do not agree to anything with them without consulting your lawyer, and do not provide any written statements or sign any medical releases without consulting your lawyer first.
Discovering who is at Fault
With all the information collected from investigating the accident scene, the drivers history (including log books), and the trucking company, your lawyer will determine who is going to be at fault for the trucking accident. You may think that the obvious choice would be the truck driver in most cases, but under the doctrine of respondent superior, their employer may be liable for any acts committed within the scope of employment. This means the truck driver's employer may be at fault and responsible for damages caused, just as if they had personally committed the tortious act. This is caused in part by the fact that trucking companies have deeper pockets, an employer is more likely to be able to respond to damages to an innocent third person injured by a trucking accident than an employee on their own. Trucking companies are also covered from accident risks through insurance, so the cost of a payout can be spread over the whole company and passed on to the public. A trucking company can also be liable for independent contractor's actions under a non-delegable duty, as they cannot pass the blame down to a contractor evading their own responsibilities as such.
Act Quickly
Due to the oft complex nature of commercial trucking accidents, you should be consulting a lawyer immediately, as there are time limits to file lawsuits and accident scenes get cleaned up quickly; you cannot afford to wait until you have been fully recovered. You or your loved ones may end up with a lifetime of medical expenses due to a trucking accident, therefore you need a lawyer to be present every step of the way to ensure you get the best possible compensation to deal with your ordeal.